The DMI indicator supplied with NinjaTrader cannot be used with an input series other than price. We have recoded it so that you may apply it to other indicators. To do so, simply select any of the other NinjaTrader indicators as input series.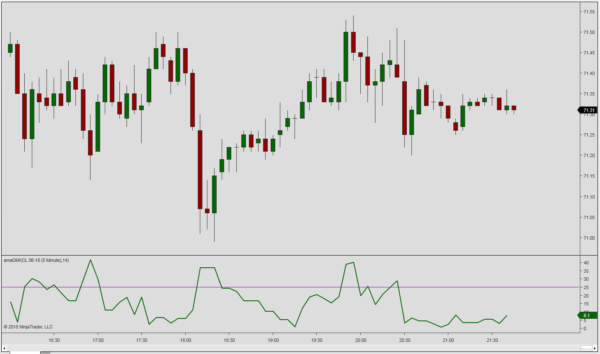 Indicator Description
The Directional Movement Index ( DMI indicator ) measures the strength of the current trend and momentum on a scale from 0 to 100. The DMI indicator is a preliminary stage to calculating the ADX as introduced by Welles Wilder.
Low Directional Movement Index values indicate a non-trending market. High DMI values tells us the opposite, a trending market on strong momentum. The Directional Movement Index is a preliminary stage to calculating the ADX. It is created by exponentially smoothing the DMI indicator. Our Indicator Library also features the standard ADX and ADXVMA Plus, in addition to the ADXR.
Other Library Indicators
You may want to combine the DMI indicator is best used in combination with  additional tools for technical analysis such as support / resistance and volume indicators. 
For support / resistance levels you may have a look our Session Tools and Fibonacci lines, such as the Pivots Daily, Pivots Weekly, Pivots Monthly, Pivots N Monthly, Camarilla Pivots Daily, Camarilla Pivots Weekly, Camarilla Pivots Monthly, Camarilla Pivots N Monthly, Prior Day Fib Lines / Current Day Fib Lines, Prior Week Fib Lines / Current Week Fib Lines, the Current Month Fib Lines / Prior Month Fib Lines or the Current N Month Fib Lines / Prior N Month Fib Lines. Our Indicator Spotlight newsletter previously reviewed the Daily Pivot Levels and Fibonacci Retracement levels.
You may also review our tools for Range and Volume Analysis, i.e. relative range / relative volume analysis. An alternative method to the Directional Movement Index for determining trend analysis is available via the Heinkin Ashi indicator, Daily Regression Channel, Moving Average Wave or the SuperTrend . Indicator Spotlights on the Heikin Ashi and the Linear Regression Chanel are also available.
The Libary momentum oscillators category furthermore offers the Acceleration Deceleration, Fast Stochastics, LBR 3/10 Oscillator, RSI and the TDI. The Indicator Spotlight newsletter reviewed the TDI indicator here.
Finally, the library also has a category for advanced oscillators featuring among others the Connors RSI, the Laguerre RSI and the MACD BB Lines. These tools build on the same concept as the standard momentum oscillators, but with a higher degree of sophistication. In general, they allow for added value approaches, utilizing a set of more complex algorithms.
A complete list of our NinjaTrader Indicators available here.
The DMI indicator is available for NinjaTrader 8.