Camarilla Pivots Weekly are similar to traditional pivot levels in that a main pivot is established with support and resistance levels above and below last week's close. A Spotlight post on the Camarailla Pivots  discusses how to use the indicator in ranging and trending trading scenarios (with video).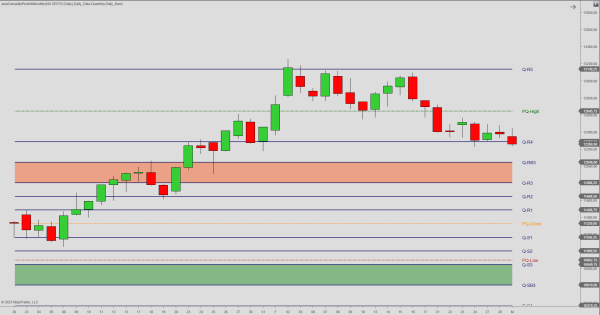 Indicator Description
The main N-Monthly Camarilla Pivot is the close of the chosen N-month period and the input for the camarilla support / resistance formulas is based on the previous session's high, low, and close. The N-Monthly Camarilla levels are calculated as follows:
Range = High – Low, for the N-Monthly time frame
R1, R2, R3, R4, R5 – Resistance levels
S1, S2, S3, S4, S5 – Support levels
R5 = (High / Low) * Close
R4 = Close + Range * (1.1)/2
R3 = Close + Range * (1.1)/4
R2 = Close + Range * (1.1)/6
R1 = Close + Range * (1.1)/12
S1 = Close – Range * (1.1)/12
S2 = Close – Range * (1.1)/6
S3 = Close – Range * (1.1)/4
S4 = Close – Range * (1.1)/2
S5 = (Close – (R5 – Close))
The resulting N-Monthly Camarilla Levels establish areas of support and resistance.
To conclude, Camarilla levels are simple and versatile support / resistance areas that can be used in both sideways and trending markets. Specifically, the levels can be used to indicate both reversal and breakout setups. Generally, the S3 and R3 levels can be used to initiate reversal trades, whereas the S4 and R4 levels signal breakout scenarios.
The idea is to wait for the prices to interact with the Camarilla levels, prior to considering setups. Furthermore, these support / resistance levels may also be combined with other tools for technical analysis, i.e. trend filters and/or momentum oscillators.
Other Library indicators
Other Camarilla Pivot indicators available from the Session Tools category include Daily Camarilla Pivots, Weekly Camarilla Pivots, Monthly Camarilla Pivots and the N-Monthly Camarilla Pivots indicators. Finally, the library contains Hourly Pivots, Rolling Pivots Daily, Rolling Pivots Weekly and Rolling Pivots Monthly. Our blogs have further information on trading with Pivot Points and the use of rolling pivots for trend detection.
The Indicator Library also has a category with Fibonacci indicators, including the Prior Day Fibonacci Levels, Current Week Fibonacci Levels / Prior Week Fibonacci Levels, the Current Month Fibonacci Levels / Prior Month Fibonacci Levels and the Current N Month Fibonacci Levels / Prior N Month Fibonacci Levels. Our Indicator Spotlight also discussed Fibonacci Retracement Levels specifically. Additionally, this category also contains the Fibonacci Bands indicator.
The indicator is available for NinjaTrader 8 and is compatible with our LizardRenko bars.